Teacher of Greek language: Eugenia Kollia
Studies
A graduate of the Department of Philosophy, Education and Psychology of the University of Athens.
Excellent knowledge of English language (Proficiency Cambridge)
Work experience
She has been involved with the teaching of Greek language to immigrants, refugees and returnees, participating in projects of the General Secretariat for Adult Education and of Vocational Training Centres.
She has worked as an educator of Greek Language in a therapeutic programme in Korydallos women's prison.
During the summers from 2004 to 2006 she taught Greek to foreigners in the Ikarian Center.
From 2004 to now teaches Greek and English to immigrants in the Vardakeios School of Ermoupolis.
---
Secretarial Support: Anna Dalmyra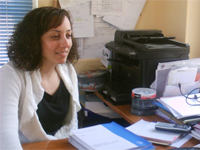 Studies
Graduate of the Greek Open University in Business Administration and Organisations.
Good knowledge of English language – level B2
Good knowledge  PC (Windows, Ms Word, Ms Excel, Ms Access, Ms PowerPoint and Internet)
Work experience
From 2004 to now she works in the secretariat of Vardakeios School of Ermoupolis
Teacher of Russian language: Galina Pytel



Studies
Graduate of the State University of Lviv, Ukraine, English Language Department.
Work experience
Teacher of English at the High school N 4 of Ternopil
Teacher of English Language and History of English Literature at the Pedagogical (Teacher`s Training) University of Ternopil
Employee at a travel agency in Athens
Teacher of French language: Christelle Loukitch
Studies
Graduate of the Sorbonne Nouvelle University in Paris, Department of Science, Information and Communication, majoring in linguistics.
Work experience
She worked in France in various advertising agencies, for humanitarian organisations and medical companies. She dealt mainly with marketing, public relations and organising seminars and conferences.
She came to Greece with her family in 2002, attended Greek language classes in Vardakeios School for five years and since 2010 has dealt with tutoring French language courses to adults, adolescents and children (aged 4-5 years).
Concurrently she is dealing with enviromental and cultural organisations which are participating in European programs. With two friends they have created an NGO (Non-Government Organisation) which organises the summer Open Art Studios and the Accordion Festival in Syros.